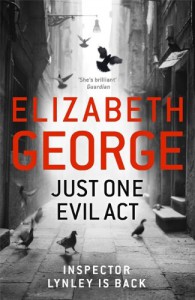 I love long books when they're done well, and this one is. This in-depth police procedural is as much an exploration of the many chambers of the heart as it is a crime novel, and it inhabits both roles equally well. The forms love takes—from gentle attraction to friendship to passion to unrequited devotion; from the love between couples to the love between parent and child, and even an interlude with a religiously obsessed form of love—fill the story. George keeps the pace engrossing while going deep into the souls of her characters. She also goes deep into the work the police officers do. There's no quick and easy solution to the crimes being investigated. Every trail leads to new questions.
Set in both London and Italy, this mystery is original and free from predictable genre formulas. Not the standard dead body by chapter three canned plot. No hackneyed confrontation and confession at gun-or-knife-point. The author breaks rules and has the skill to do it.
As well as the theme of love, the book explores the breaking of rules and conventions, which love often moves people to do. Detective Sergeant Barbara Havers, more than Inspector Thomas Lynley, drives the story. She's somehow irresistible, though she's a mess, or maybe because of it. She does what she isn't supposed to do, whether it's the way she dresses, her unhealthy habits, or her on-the-job behavior. When she's determined to help a neighbor, a close friend, whose nine-year old daughter has been kidnapped, Havers pushes the limits professionally and risks her career. Her friend has broken with conventions in many ways himself. A Pakistani Muslim, a professor of microbiology, the distinguished and gentle man has left his family for passionate affair with a stunningly beautiful English woman, the mother of his beloved child. When she leaves him and takes their daughter with her, it's the first twist in a winding plot.
One mystery leads to another. The cast of characters ranges from the usual main players at New Scotland Yard to a private detective and his assistants—a colorful lot—to the Italian police as the inquiry into the missing girl becomes an international affair. The mystery plot is full of surprises and suspense, and the variety of subplots layered into it show it taking place in the lives of real people; it's not just puzzle to be solved. Havers has a profoundly moving scene alone toward the end as she experiences the aftereffects of her long efforts on her friend's behalf.
This book could stand alone. The backstory is handled smoothly and doesn't spoil any prior books, but it will be even more appealing to readers who already know and care about Lynley and Havers.